Tampa Cruise Port.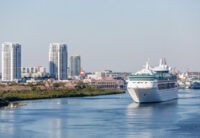 The Port of Tampa in Florida is a popular destination for a growing number of cruise passengers, who want to enhance the cruise experience with a day or two at either the front end or on the back end of any of a variety of Caribbean itineraries. The Port of Tampa offers a shopping and entertainment complex called Channelside.
Tampa Port Parking
Cruise Parking offers the most convenient, safe, and secure parking while you are away on your cruise. Port Tampa Bay has 3,480 parking spaces available to the public; 2,519 covered parking spaces and 1,316 uncovered parking spaces. All of the parking is monitored by our security department 24 hours a day.
Channelside Parking Garage at Tampa
Channelside Bay Plaza offers a wide variety of shopping, dining, and entertainment experiences.
Conveniently located across the street, the Channelside Parking Garage is a safe and affordable indoor parking facility with easy access to all retail locations. The garage is well maintained and offers the latest in ChipCoin parking technology.
Parking Operator
810 Channelside Drive
Tampa, Florida 33602
Cruise Ship Terminals
Tampa Cruise Terminal 2
The Garrison Seaport Center scheme of the late 1990s incorporated the creation of Tampa's Cruise Terminal 2. Facilities available include luggage carts, customs, a snack shop, restrooms and cab rank. The terminal has just one cruise ship quay. Terminal 2 is used by Carnival. Parking is located straight across the street at the Channelside multistory car lot.
Address Terminal 2:
651 Channelside Drive,
Tampa, FL 33602
Tampa Cruise Terminal 3
Tampa's Cruise Terminal 3 was constructed in 2002 to meet the need of a rising demand for cruises out of Tampa. The terminal offers a streamlined passenger embarkation and disembarkation area, baggage facilities and fast security. The terminal offers just one cruise ship quay. Terminal 3 is used by Royal Caribbean, Holland America Line and Norwegian Cruise Line cruise ships. Parking is located directly across Channelside Drive at the Channelside multi-storey car lot.
Address Terminal 3:
815 Channelside Drive
Tampa, Florida
Tampa Cruise Terminal 6
Tampa's Cruise Terminal 6 is sited half-a-mile to the north of Terminal 3. Terminal 6 was fully renovated in 2011 to provide facilities for Holland America Line. The terminal services a single quay. Car Parking is conveniently available on-site.
Address Terminal 6:
1333 McKay St,
Tampa, FL 33602
Traveling from Tampa International Airport (10 miles):
Exit the Airport and follow signs to I-275 North.
I-275 merges with I-4 East.
Take I-4 East to Exit #1 (Ybor City).
Go south on 21st Street, turn right on Adamo Drive (Hwy 60).
Turnleft (south) on Channelside Drive.
Cruise Terminal 3 main entrance is approximately 5 blocks South on Channelside Drive.
Entrance is on the left at Cumberland Street.
In the event of a last minute change in pier assignments, signage will indicate the assigned terminal for your particular ship.