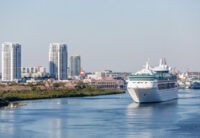 Tampa is a popular cruise port to drive to by vehicle, which means hundreds of visitors need Tampa cruise parking every single week. Tampa Bay Port serves several cruise lines: Carnival Cruise Line, Celebrity Cruises, Norwegian Cruise Line, and Royal Caribbean. There are a number of alternatives for low-cost parking near the Tampa cruise port. The majority of cruise parking lots in Tampa offer complimentary shuttle service to and from the port.
Cruise Parking offers the most convenient, safe, and secure parking while you are away on your cruise. Port Tampa Bay has 3,480 parking spaces available to the public; 2,519 covered parking spaces and 1,316 uncovered parking spaces. All of the parking is monitored by our security department 24 hours a day.
Channelside Parking Garage at Tampa
The Port Tampa Bay parking garage is located across the street from the central cruise terminal (Port Tampa Bay Cruise Terminal 3). Conveniently located across the street, the Channelside Parking Garage is a safe and affordable indoor parking facility with easy access to all retail locations. The garage is well maintained and offers the latest in ChipCoin parking technology.
Parking Operator
810 Channelside Drive
Tampa, Florida 33602
Tampa cruise Terminals
Beginning your vacation with a cruise out of Tampa, Florida is sure to be one of the most memorable experiences you've ever had. The Port of Tampa in Florida is a popular destination for a growing number of cruise passengers, who want to enhance the cruise experience with a day or two at either the front end or on the back end of any of a variety of Caribbean itineraries.