St. Maarten, Leeward Islands.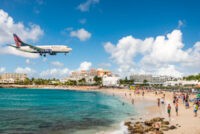 St. Maarten is a cultural jewel of the Caribbean, out where the Atlantic Ocean meets the Caribbean Sea. Where people from all walks of life come together to enjoy a variety of cultural experiences like the Heineken Regatta, where hundreds of vessels set their sails for a yearly race, or the St. Maarten Carnival, a parade of dance and live calypso music. Fort Amsterdam and Maho Beach are other popular St. Maarten attractions.
St. Maarten Things To Do
A magical island planted like a picture book between the Atlantic Ocean and the Caribbean Sea, St. Martin has something for everyone. You could spend days exploring the "chains of mountains green," as described in the national anthem, along with the beautiful beaches and underwater fantasylands.
Philipsburg
Philipsburg is the main town and capital of the country of Sint Maarten. Shopping is great throughout the island, but the best bargains on jewelry, china, electronics and more are found on Front Street in Philipsburg.
St. Martin's beaches
St. Martin's beautiful beaches are clothing-optiona, especially the tourist favorite, Orient Bay. Visitors will find bathing suit-clad sunbathers along Simpson Bay and Maho Bay on the Dutch side, famous for the Princess Juliana International Airport adjacent to the beach.
Marigot
Marigot, the cosmopolitan capital of the French side, is home to all the local government departments. Here, boutiques and trendy restaurants sit side-by-side with traditional stalls. Don't miss the colours, smells and buzz of the local market.
St. Maarten Carnival
The St. Maarten Carnival is a great opportunity for everyone to mix with others, explore new cultures and have a whale of a time. The St. Maarten Carnival is a colourful and joyous occasion which occurs every year on the Caribbean island of St. Maarten. Running from April to May, everyone gets caught up in the Carnival energy which eventually guide you to the one-of-a-kind venue that sets St. Maarten's Carnival apart from any similar festival in the world.