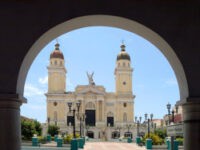 Historically Santiago de Cuba has long been the second-most important city on the island after Havana, and still remains the second-largest. It is on a bay connected to the Caribbean Sea and is an important sea port. Santiago de Cuba was a focal point of the Spanish-American War, and many reminders of that conflict are found in the area. On July 26, 1953, the revolutionary leader Fidel Castro led an attack against the Moncada Barracks in the city. The attack was repulsed by government troops, but the name the 26th of July Movement became attached to Castro's cause.
Santiago de Cuba Things To Do
Among carnivals, trova music and Cuban rum, your trips to Santiago de Cuba will be an amazing experience. The carnival of Santiago de Cuba is the most traditional in the island, joyful as only a few can be and represents the perfect occasion for you to discover the customs and traditions of Santiago. In this wonderful city you can visit the Museum of the Historical Cuban Atmosphere, located next to the Céspedes Park and very near the Nuestra Señora de la Asunción Cathedral. You can also visit the Velázquez Balcony and the Casa Diego Velázquez House to know more about the colonial period.
Carnival in Santiago de Cuba
The carnival of Santiago de Cuba is the largest, most famous, and most traditional carnival in all of Cuba, and is an explosion of colour, contagious drum rhythms, and dance. It is also a time for Cubans to re-gather themselves and remember their history, community, and culture, and is often punctuated by the Cuban national holiday of July 26th.
Castillo de San Pedro del Morro
A UNESCO World Heritage Site, Castillo del Morro enjoys a reputation as one of the best-preserved Spanish fortresses of the 17th century.
Museo de Ambiente Histórico Cubano
The oldest house still standing in Cuba, this arresting early colonial abode dating from 1522 was the official residence of the island's first governor, Diego Velázquez.
Parque Céspedes
Most of the life in Santiago de Cuba happens in this bright square, where you will find a marble statue of Carlos Manuel de Céspedes, a. Cuban slavery abolitionist whom the park is named after. Right in the heart of the city, the Parque Céspedes bustles with activity 24/7 and is only a short walk from the Museo del Carnaval and the Ayuntamiento, from where Castro started his Nationalist Revolution.
Steep streets of El Tivolí
A charming, hilly neighborhood just south of Parque Céspedes (loosely bordered by Av. Trocha and Calle Padre Pico), El Tivolí was once the most fashionable place to live in Santiago. Today, it's a relaxed place of steep streets, weathered and decrepit wooden houses, and a couple of attractions, but mostly it's a good place to wander.