San Juan, Puerto Rico.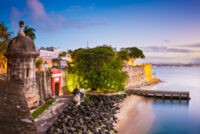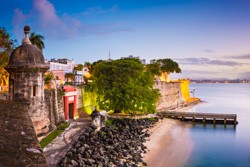 In San Juan, you'll find things to do for history buffs, families, kids, romantics, foodies, shoppers, dancers, music lovers, beach bums, water sport enthusiasts, adventure seekers. There many things to do in Puerto Rico, and some of the top attractions are easily accessible right in San Juan. The Capital City of San Juan offers great activities and entertainment for the whole family.
San Juan things to do
Prepare to be captivated by the natural enchantment of Puerto Rico, its vibrant culture, and old world elegance. San Juan is one of the most unique and accessible places to travel under the U.S. Flag, far from a cookie cutter Caribbean destination.
Old San Juan
The neighborhood of Old San Juan can easily be seen on foot. While Old San Juan could be said to include the far outer edges of El Morro, Fort San Felipe to the west and Castillo San Cristobal to the east, Old San Juan is usually considered to be the seven or eight square blocks that encompass the historic heart of the town.
New San Juan
The New San Juan, the metropolis of the Caribbean, is constantly growing and moving forward. Our capital city offers the amenities and entertainment of a modern and lively city with the added allures of tropical beaches, luxurious beachfront hotels, world-class dining, shopping, and a sizzling nightlife.
Spicy Caribbee
Stock up on the island's famed coffee at this colorful shop in Old Town, which carries eight Puerto Rican brands. You'll also find a vast selection of Caribbean-influenced spices, sauces, jams, and even bath gels, soaps, and perfumes.
Castillo de San Cristóbal
Castillo de San Cristóbal (San Cristóbal Fort) is El Morro's partner in the city's defense. Built in 1634 (completed in 1771), was considered the Gibraltar of the West Indies. San Cristóbal was supported by a massive system of outworks which provided defense in depth and is is one of the largest defenses ever built in the Americas.