Cruises to Punta Cana.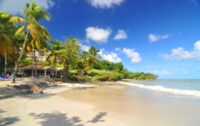 Punta Cana is a resort town at the easternmost province of the Dominican Republi, abuts the Caribbean Sea and the Atlantic Ocean. It's a region known for its 32km stretch of beaches and clear waters. The Bávaro area and Punta Cana combine to form what's known as La Costa del Coco, or the Coconut Coast, an area of lavish, all-inclusive resorts. It's popular for zip-lining, windsurfing, kayaking and sailing.
Punta Cana has a tropical climate. Although it is mildly windy, the ocean in the area is mainly shallow, with several natural marine pools in which visitors can bathe. The weather is fairly constant, with an average temperature of 26°C. The hottest season lasts from April to November, and during the day temperatures might reach 32°C. From December to March, temperatures during the evening are around 20°C.
Punta Cana, Dominican Republic As a beach destination, many of the popular excursions in Punta Cana are near the water. These activities include snorkeling, windsurfing, banana boat rides, speedboats, scuba diving, catamaran cruises, party boats, deep sea fishing, as well[…]