Nassau & Paradise Island.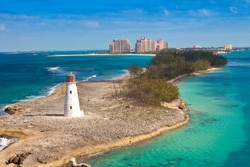 With the lure of a big city and the ease of tropical utopia, Nassau & Paradise Island are considered by many as, well, paradise. Nassau, the capital of The Bahamas, is a bustling metropolitan hub full of culture and modern amenities. To the north lies Paradise Island. It's 685 acres of pure euphoria, developed almost exclusively to delight and accommodate visitors. The island boasts resorts, hotels, restaurants, shops, nightlife, a golf course, an aquarium and a casino.
Nassau & Paradise Island Things to Do
Beaches In The Bahamas
The Bahamas is known for its stellar beaches. With over 2,000 breathtaking islands and cays, and the clearest water on Earth, it's no wonder visitors come from all around to sink their toes into miles of pure white, and in some places pink, sand. In short, the beaches you'll find here are the very definition of paradise.
Diving in the Bahamas
With 25 dive destinations, the Bahamas has some of the most spectacular dive sites in the Caribbean. Nassau is ideal for diving because of the perfect water temperature and visibility all year round. Dive excursions in the Bahamas provide many activities like swimming and feeding the reef sharks, visiting age-old shipwrecks and swimming among beautiful coral reefs. Some of the more popular dive sites are The Lost Blue Hole, the Barracuda Shoals in Nassau
The Legendary Blackbeard
Legendary pirate, Blackbeard (Edward Teach), impacted Nassau's history. The British Colonial Hilton is built on the site of his former residence, Old Fort Nassau (circa 1697). A replica of the well that supplied his water is on the property.
Downtown and Bay Street
A bustling mix of shops, restaurants, and street hawkers, Downtown and Bay Street offers some of the best duty-free shopping in Nassau. Cruise ship passengers flock here to buy jewelry, T-shirts, and perfume. Visitors will also find the straw market and Pirates of Nassau Museum along this strip.
Atlantis Paradise Island
Atlantis, a luxury hotel, aquarium, water park, and entertainment complex is one of the top attractions in the Bahamas. The marine habitat is one of the largest outdoor aquariums in the world. It specializes in native tropical species, and the tanks incorporate the ruins and sculptures of Atlantis. Highlights include the Leap of Faith, which plunges riders down an 18-meter drop through a tunnel submerged in a shark-filled lagoon, while the less adventurous can float around the park on lazy river ride, over waves and rolling rapids. Animal lovers can also swim with dolphins or join the Ultimate Trainer for a Day program at the resort's Dolphin Cay.