Mahogany Bay, Roatan.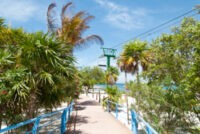 Special attraction at the Mahogany Bay terminal is the chair lift system. It transports passengers from the terminal building directly to the Mahogany Beach, a 10-acre private island featuring an 825-foot-long white-sand beach with a beach volleyball court and myriad watersports opportunities.
Roatan Island things to do
Roatan Island is known as the "jewel of Honduras" with its beaches with crystal water, all-year sunny weather and clear blue skies. The region was discovered by Christopher Columbus in 1502. It used to be home of the Paya Indians. The island of Roatan is famous with the fact that it was home for more than 5,000 pirates over time. The most popular one are Captain John Coxen and Henry Morgan.
Roatan Marine Park: located between Sandy Bay and West Bay. The area is popular with amazing beaches and opportunities for water sports.
Beaches: the most popular are Half Moon Bay, West Bay and West End.
Coxen Hole: the capital offers duty free shops for tourists.
Gumbalimba Park: animal preserve with creatures like iguanas, parrots, turkeys and monkeys.
Carambola Botanical Gardens and Trails: located on Roatan's north side, spreads over 40-acre area.
Roatan Dolphin Encounters: you have the opportunity to see, swim, dive or snorkel with dolphins. Located at Anthony's Key Resort in the Roatan Institute of Marine Science.