Key West, Florida.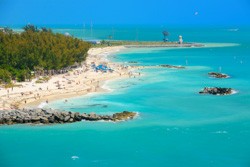 Some of our most popular Key West tourist activities on the water include dolphin encounters, kayaking the backcountry, diving and snorkeling at Ft. Jefferson and the Dry Tortugas, or renting a boat at a Key West marina to explore on your own.
Scuba diving & snorkeling
Diving and snorkeling in the coral reefs and wrecks around Key West is spectacular. If you are interested in wreck diving, there are only a few around Key West that are available to visitors, but the few we have are world class!
The Ernest Hemingway Home & Museum
Ernest Hemingway penned his masterpieces, Farewell to Arms and For Whom the Bell Tolls, while living in Key West. Step back in time and visit his former home to explore the rooms and gardens where the Nobel Prize winner lived and wrote for over 10 years.
Sloppy Joe's
There's only one Sloppy Joe's, and this is your chance to experience the real thing! This well-known bar has been a favorite "watering hole" in Key West since 1933. Doors opens at 9:00 AM, live music begins at noon and the fun keeps on going!