Great Stirrup Cay, Bahamas.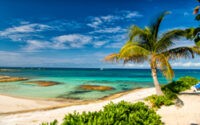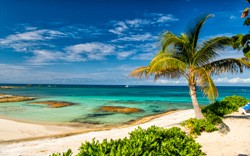 Great Stirrup Cay is an unspoiled paradise of magnificent white sandy beaches, majestic coconut palms, and calm, pristine waters where an abundance of colorful marine life inhabits the surrounding coral reefs. Guests can make use of the beaches, the deck chairs, hammocks, volleyball court, ping pong tables, and the nature trail for free.  There also is no charge for the barbecue lunch.
Great Stirrup Cay Things to Do
Beaches
No Caribbean island is complete without plenty of beach area. The beaches at Great Stirrup Cay are particularly beautiful and offer plenty of sun, swimming and snorkeling for all visitors. There are multiple beach areas, some more secluded than the rest, for visitors to relax on or investigate the local waters on a dive.
Snorkeling
Snorkeling is always a fun way to explore the sea life of an area, so when you are considering things to do in Great Stirrup Cay, it makes sense for snorkeling to be included on that list. The Fate of the Fancy snorkel adventure is fun for the entire family. Here you explore the remnants of the "Fancy," a ship of old that was supposedly attacked by a giant sea monster. Snorkeling takes on a whole new meaning when you go about it in this fashion, and the adventure includes a map to help guide you along the way.
Parasailing
The parasail takes the passengers up approximately 400 feet above the water for a five to seven minute ride in the air. Since there are usually several pairs per boat, the entire boat ride takes about 45 minutes.
Bars
With six bars on Great Stirrup Cay, you have no excuse for not drinking a Coco Loco.