Cruises to Turks and Caicos archipelago.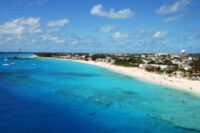 Grand Turk Island is the capital island of the Turks and Caicos archipelago, in the Atlantic Ocean, home to a state of the art luxury cruise ship center. Many Carnival cruise ships stop at Grand Turk Cruise Center at Carnival Cruise Terminal, toward the south end of the island, to provide guests a "sun and sand" day while transiting between Florida and the Caribbean. It's popular because it is one of the few cruise depots where guests can swim on a beach right next to the ship.
Cockburn Town is the center piece of the island with a wonderful selection of historical buildings and a rustic charm that is unforgettable. Several important historic events have taken place around this small island, including being the likely spot of Columbus's first landfall in the New World, and the first land American astronaut John Glenn stepped foot on after orbiting Earth in 1962.
Grand Turk Island. With the most pristine, turquoise water and beach in the world, it's no surprise that most of the activities in Turks and Caicos and things to do in Providenciales revolve around the ocean and beach. Scuba Diving,[…]