Grand Turk Island.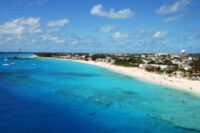 With the most pristine, turquoise water and beach in the world, it's no surprise that most of the activities in Turks and Caicos and things to do in Providenciales revolve around the ocean and beach. Scuba Diving, snorkelling tours, kayaking eco-tours and boat charters are great ways to make your stay memorable.
Grand Turk things to do
Grand Turk Lighthouse
The most famous landmark in the Turks and Caicos is the Grand Turk Lighthouse. At this site, you will find the lighthouse keeper's residence, as well as the kerosene storage building, built of local limestone blocks. At night, the lighthouse was often the only guidepost mariners had to steer them away from the treacherous Northeast reef, which extends eastward far out to sea and was responsible for an untold number of shipwrecks.
Beaches
Several beautiful beaches are found on Grand Turk. The sparkling waters and white sand of Governor's Beach is unmatched, but Cockburn Town Beach and the Cruise Center Beach (SunRay Beach) are also excellent.
Scuba Diving
Grand Turk has one of the most lush wall systems in the entire world. Healthy corals, diverse marine life and visibility that exceeds 100 feet often calls divers from around the world. The wall is a 10 minute ride from the beach, where your dive shop will conveniently pick you up. You can also take a day trip to dive or snorkel at Salt Cay. Dive companies include Blue Water Divers, Bohio Dive Resort, Oasis Divers, and Grand Turk Diving Company.
Dune Buggy Adventures
Feeling adventurous? Climb behind the wheel of a tubular frame sand dune buggy. Head off down the narrow marl tracks that skirt the beach and rock coastline around the island to the south-east side of the island. Take a trek to the bluff were you can capture the beautiful view of Gibb's Cay and a few other little uninhabited islands that are visible in the Atlantic Ocean.
Horseback Ride on the Beach
Go for a leisurely horseback ride along the beach while enjoying the view of the crystal clear Atlantic Ocean. The guides will then unsaddle your mounts and prepare them for a swim. Remount your horse, and enjoy the fun of riding a horse in the ocean.