George Town & Grand Cayman.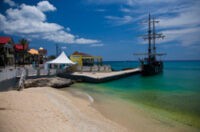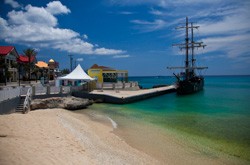 Activities available to tourists in Grand Cayman include submarine tours of George Town Harbour, glass-bottom boat tours, snorkelling, scuba-diving, parasailing, charter boat tours, rum distillery tours, art galleries, a historical museum, and of course, shopping and eating. For nightlife, Seven Mile Beach is host to numerous nightclubs and bars. George Town's waterfront is also home to a Harley-Davidson shop, a Jimmy Buffett's Margaritaville franchise, and a Guy Harvey art studio and restaurant. Ritz-Carlton Grand Cayman is the grandest hotel on the island.
Grand Cayman things to do
Seven Mile Beach
Escape the hustle and bustle of George Town by taking a taxi to Seven Mile Beach, named one of the world's "ultimate beaches" by travel experts. The stretch of white sand is one of the reasons why the Cayman Islands are celebrated as the epitome of an island escape and a premier Caribbean destination. Visitors from all over the world flock to the beach to explore the clear waters and coral sands. Walk past the hotels, villas, resorts, beach bars and shops that line the sand, work on your tan under the warm sun, relax while watching the waves roll in, or take a more adventurous route by diving, snorkeling, and boating in the crystalline waters.
Stingray City Sandbar
Experience a once-in-a-lifetime adventure: snorkeling with stingrays at Stingray City Sandbar. These relatively tame creatures will swim right into your arms as they glide around you. They have velvety soft skin and love to have their bellies rubbed. Despite their frightening name, they are very gentle and won't hurt you as long as you stay away from their tails.
Queen Elizabeth II Botanic Park
The world-class park is abundant with lush flora growing in themed gardens. A cotton-candy-pink cottage sits in the Heritage Garden, surrounded by white sands, fruit trees, medicinal plants, traditional crops and a separate cook room. Walking through the paths, visitors get a sense of life in the islands during the early 20th century.
Cayman Islands National Museum
Visit this marvelous museum, dedicated to preserving artifacts related to the history and culture of the islands. Located in buildings dating back to the late 19th century, the museum showcases time-tested methods of rope-making, fishing and roof-thatching.
Popular Grand Cayman Excursions
Stingray Swim
Snorkeling
Turtle Farm
Beach Break
Island Tour