Freeport & Grand Bahama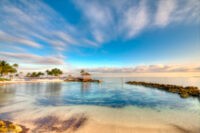 Dreaming of snorkeling, remote beach and a little pampering? Dive into Bahamian crystal clear waters and discover a living coral reef. Then cruise along the coast to a deserted white sand beach. Enjoy a delicious lunch off the grill & explore, play games or simply relax…
Nearby, Deadman's Reef is popular for snorkeling, and the surrounding offshore waters have many dive sites. Up the coast, Lucayan National Park features extensive underwater caves plus kayaking and nature trails.
Freeport tourist attractions
Lucayan National Park
Lucayan National Park is the crown jewel of the three parks on Grand Bahama Island. The 40-acre park located 25 miles east of Freeport, and is the only place where visitors can see all of the island's 6 ecosystems in one location. When visiting the park you'll see thousands of pine trees, ferns, mangroves and dozens of rare flower species, including orchids.
Junkanoo Beach
Of all the beaches in Freeport, Junkanoo is the easiest to get to from the cruise ships, yet it doesn't get unbearably crowded. For just $5, you'll get access to the white sandy beach, a beach chair, an umbrella, kayaks, and pedal boats.
Scuba Diving
Grand Bahama Island's reputation as a diver's paradise. When you dive deep into the crystal clear waters of Grand Bahama, you'll find detailed coral gardens, playful dolphins and inviting blue spaces. There is so much to discover beyond the beach!
Vast Underwater Caves
Dive beneath the surface to explore a cavernous world that's one of the biggest and among the most environmentally distinct. The cave system is accessible from both land and sea, with permission to dive required in some areas.