Cruises to Freeport.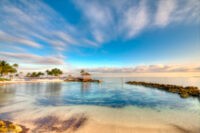 All guests arriving on a cruise ship in Freeport Bahamas will be docking at the Lucayan Harbour, located on the West side of Grand Bahama Island (Freeport). Port Lucaya and its marketplace have evolved into the tourist hub of the island and is the location of many restaurants and shops.
Grand Bahama Island is a complete vacation destination. Freeport is the main city on Grand Bahama, an island in the northwest Bahamas off the Florida coast. The action is sizzling in Freeport, the resort center of Grand Bahama Island. It's best known for the oceanfront Lucaya district's beaches, resorts, shopping and plenty of razzle-dazzle entertainment, from a casino to music clubs to barefoot beach bars. Boasting one of the world's largest underwater cave systems, three national parks, endless beaches and crisp blue water, Grand Bahama Island has it all.
Freeport & Grand Bahama. Dreaming of snorkeling, remote beach and a little pampering? Dive into Bahamian crystal clear waters and discover a living coral reef. Then cruise along the coast to a deserted white sand beach. Enjoy a delicious lunch off the[…]