Isla Cozumel, Mexico.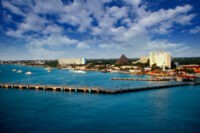 Cozumel is a popular cruise ship port on Florida cruises. Most visitors travel to Cozumel to dive and see its wonderful underwater life. While there are quite a few beach clubs that offer snorkeling, the main attractions are the reefs offshore and the multiple dive shops and operations are always ready to take you there.
Cozumel things to do
There are so many fun things to do on Cozumel island, you simply won't be able to get to them all.
Scuba diving and snorkeling in Cozumel
At Arrecifes de Cozumel National Park, there's diving spots around a section of the Mesoamerican Reef and the Museo Subacuático de Arte's submerged sculptures. Chankanaab is an eco park surrounding a lagoon with underwater caverns, home to dolphins, manatees and sea turtles. Beaches with a rocky limestone shoreline on the west coast are the best for snorkeling or shore dives since less sand is disturbed so visibility and coral growth are better.
El Cielo Cozumel "Heaven"
With soft powdered white sand Cozumel's El Cielo, also known as "HEAVEN", is beach with shallow crystal clear water as far as the eye can see, which makes it perfect to relax.
Palancar Beach
One of the best all-around beach spots on Cozumel, is especially acclaimed for its water sports, including kayaking, snorkeling, sailing and diving. You can rent a dive charter and also grab some grub at the nearby restaurants.
Other Side of Cozumel (East Side)
The beaches on the east (windward) side of the island. Sandy surf and large waves alternating with rocky limestone coastlines on the east side of the island are beautiful but can be dangerous for swimmers.
San Gervasio Ruins
San Gervasio is thought to have been the site of the sanctuary of Ixchel, goddess of fertility, and thus an important pilgrimage site at which Maya women worshipped.
Museo de la Isla de Cozumel
Museum featuring artifacts & exhibits on the island's history, plus a restaurant with ocean views.
El Cedral
Once the hub of Mayan life on Cozumel, it became the island's first official city. Today it's a farming community with small, well-tended houses and gardens.
Cozumel Dolphin Royal Swim Experience
Swim and play with Cozumel's amazing dolphins during this one-of-a-kind, interactive experience. Offered in an intimate, small-group setting, this Royal Swim allows you to meet friendly dolphins, watch them show off their playful antics, and even participate in a few of their trained maneuvers.