7-day cruise to St. Maarten, St. Thomas and CocoCay on board Wonder of the Seas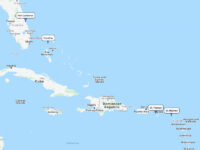 Cruising from: Port Canaveral (Orlando), Florida;
Departure Date: September 15, 2024;
Duration: 7-day cruise;
Cruise Line: Royal Caribbean;
Cruise Ship: Wonder of the Seas;
Ports of Call: Port Canaveral, St. Maarten, St. Thomas, CocoCay, Port Canaveral;
Enjoy magnificent scenery and unique experiences on this Eastern Caribbean cruise with Royal Caribbean
Day 0
Cruises from Port Canaveral sail to many different places and are a great way to get away on vacation. Port Canaveral has a huge selection of cruise itineraries from Florida's east coast. Most cruise passengers associate Port Canaveral with Orlando.[…]
Day 1 – At Sea cruising
There are plenty of daily activities on board Royal Caribbean to keep you busy. Wonder of the Seas has everything a discerning cruiser could want, bars, sports venues and shops.
Day 2 – At Sea cruising
Discover exciting new entertainment offerings – lively music, stunning choreography, and beautiful venues that make Royal Caribbean' onboard entertainment among the best at sea.
Day 3
St. Thomas is the gateway island of the U.S. Virgin Islands in the Caribbean Sea, best known for its beaches and snorkeling spots. The territory's capital, Charlotte Amalie is a busy cruise-ship port. Historic buildings include a 1679 watchtower called[…]
Day 4
St. Maarten, a popular cruise-ship stop is part of the Kingdom of the Netherlands, an island country on the southern part of a Caribbean island shared with Saint Martin, a French overseas collectivity. The island of Sint Maarten or Saint[…]
Day 5 – At Sea cruising
Cruising aboard Wonder of the Seas elevates fun at sea to an art form. Wonder of the Seas demonstrates a true mastery of the craft with an onboard collage of fun entertainment for you to enjoy.
Day 6
CocoCay, Bahamas, is Royal Caribbean's private island used as a stopover on Caribbean cruises from Florida. It is located approximately 55 miles north of Nassau. The island was originally called Little Stirrup Cay. After Royal Caribbean took over the lease[…]
Day 7
Cruises from Port Canaveral sail to many different places and are a great way to get away on vacation. Port Canaveral has a huge selection of cruise itineraries from Florida's east coast. Most cruise passengers associate Port Canaveral with Orlando.[…]
---
Eastern Caribbean cruises are fantastic ways to explore magical islands, beautiful beaches, crystal clear waters, fantastic food, among other things. Discover the best of Bahamas, US Virgin Islands and Dutch Caribbean. Visit St. Thomas, St. Maarten and CocoCay with Royal Caribbean. Wonder of the Seas leaving Port Canaveral (Orlando), Florida for 7 nights from September 15, 2024.