7-day cruise to Cozumel, Grand Cayman, Falmouth and Castaway Cay with Disney Cruises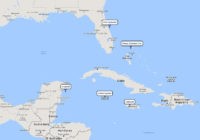 Cruising from: Port Canaveral (Orlando), Florida;
Departure Date: September 7, 2024;
Duration: 7-day cruise;
Cruise Line: Disney Cruise Line;
Cruise Ship: Disney Fantasy;
Ports of Call: Port Canaveral, Cozumel, Grand Cayman, Falmouth, Castaway Cay, Port Canaveral;
Enjoy magnificent scenery and unique experiences on an Western Caribbean cruise to Mexico, Grand Cayman, Jamaica and The Bahamas with Disney Fantasy
Day 0
Cruises from Port Canaveral sail to many different places and are a great way to get away on vacation. Port Canaveral has a huge selection of cruise itineraries from Florida's east coast. Most cruise passengers associate Port Canaveral with Orlando.[…]
Day 1 – At Sea cruising
Experience the relaxed ambience onboard Disney Fantasy attentive service from a friendly staff that knows what hospitality means, you'll find your Disney Fantasy ship truly is your home away from home.
Day 2
Cozumel is Mexican island in the Caribbean Sea at tip of the Yucatan Peninsula, regular port of call on Western Caribbean itineraries, particularly those leaving from Florida. The main town on the island is San Miguel de Cozumel. Most of[…]
Day 3
The Cayman Islands, which are world-renowned for their cuisine, snorkeling, and diving, provide an adventure for individuals of all ages and interests. The majority of them are cruise ship guests who spend a few hours shopping, sunning, or swimming with[…]
Day 4
Falmouth, the seat and largest settlement of Jamaica's Trelawny parish, can be found midway between the popular cruise ship stops of Ocho Rios and Montego Bay. Jamaica is a beautiful and historic destination, and a cruise is a great way[…]
Day 5 – At Sea cruising
Discover exciting new entertainment offerings – lively music, stunning choreography, and beautiful venues that make Disney' onboard entertainment among the best at sea.
Day 6
Castaway Cay is a private island reserved exclusively for Disney Cruise Line guests on Bahamian and Caribbean cruises. Located near Great Abaco Island, it is often used as a stopover for Disney cruises from Florida. The Disney ship docks right[…]
Day 7
Cruises from Port Canaveral sail to many different places and are a great way to get away on vacation. Port Canaveral has a huge selection of cruise itineraries from Florida's east coast. Most cruise passengers associate Port Canaveral with Orlando.[…]
---
Western Caribbean cruises from Port Canaveral (Orlando) are fantastic ways to explore magical islands, beautiful beaches, crystal clear waters, fantastic food, among other things. Visit Cozumel, George Town, Falmouth and Disney Castaway Cay with Disney Cruise Line. Disney Fantasy leaving Port Canaveral (Orlando), Florida for 7 nights from September 7, 2024.