6-day cruise to Half Moon Cay, Grand Turk and Amber Cove with Carnival Cruises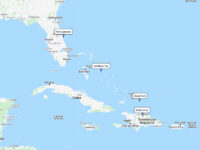 Cruising from: Port Canaveral (Orlando), Florida;
Departure Date: September 1, 2024;
Duration: 6-day cruise;
Cruise Line: Carnival Cruise Line;
Cruise Ship: Carnival Vista;
Ports of Call: Port Canaveral, Half Moon Cay, Grand Turk, Amber Cove, Port Canaveral;
Discover Bahamas, Dominican Republic, Turks and Caicos archipelago, enjoy magnificent scenery and unique experiences on an Eastern Caribbean cruise with Carnival Vista
Day 0
Cruises from Port Canaveral sail to many different places and are a great way to get away on vacation. Port Canaveral has a huge selection of cruise itineraries from Florida's east coast. Most cruise passengers associate Port Canaveral with Orlando.[…]
Day 1 – At Sea cruising
Experience the relaxed ambience onboard Carnival Vista attentive service from a friendly staff that knows what hospitality means, you'll find your Carnival Vista ship truly is your home away from home.
Day 2
Accessible by Carnival and Holland America cruise ships, Half Moon Cay is often used as a stopover for cruises from Florida. Half Moon Cay is one of about 700 islands that make up the archipelago of the Bahamas. Also called[…]
Day 3
Grand Turk Island, located in the Atlantic Ocean, is the capital island of the Turks and Caicos archipelago and home to a state-of-the-art luxury cruise liner hub. Cockburn Town is the heart of the island, with a remarkable collection of[…]
Day 4
Amber Cove Cruise Center, the Caribbean's newest destination, is located in the Dominican Republic near Puerto Plata on the country's North Coast. This part of the county is famed for being the site of Christopher Columbus' first settlement in the[…]
Day 5 – At Sea cruising
Each cruise line has their own unique way to pamper you and indulge your senses. There is always something to do onboard Carnival cruise ship.
Day 6
Cruises from Port Canaveral sail to many different places and are a great way to get away on vacation. Port Canaveral has a huge selection of cruise itineraries from Florida's east coast. Most cruise passengers associate Port Canaveral with Orlando.[…]
---
Eastern Caribbean cruises are fantastic ways to explore magical islands, beautiful beaches, crystal clear waters, fantastic food, among other things. Visit Half Moon Cay, Grand Turk and Amber Cove. Carnival Vista leaving Port Canaveral (Orlando), Florida for 6 nights from September 1, 2024.