7-day cruise to St. Kitts, St. Thomas and CocoCay on board Icon of the Seas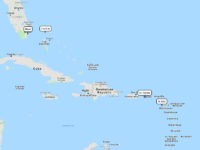 Cruising from: Miami, Florida;
Departure Date: September 7, 2024;
Duration: 7-day cruise;
Cruise Line: Royal Caribbean;
Cruise Ship: Icon of the Seas;
Ports of Call: Miami, St. Kitts, St. Thomas, CocoCay, Miami;
Enjoy magnificent scenery and unique experiences on this Eastern Caribbean cruise with Royal Caribbean
Day 0
There are a wide variety of cruises that depart from Miami, Florida, which is why it is an excellent choice for embarking on a memorable cruise holiday. Besides that, PortMiami is the world's largest passenger port and one of the[…]
Day 1 – At Sea cruising
Cruising aboard Icon of the Seas elevates fun at sea to an art form. Icon of the Seas demonstrates a true mastery of the craft with an onboard collage of fun spots for you to enjoy.
Day 2 – At Sea cruising
Whether you like to indulge in food, sport, games or education, there are tons of cruise activities aboard every Icon of the Seas ship.
Day 3
Saint Kitts and the neighbouring island of Nevis constitute one country: the Federation of Saint Kitts and Nevis. Port Zante is where cruise ship passengers arrive in Basseterre to be greeted by streets full of colourful modern shops selling souvenirs[…]
Day 4
St. Thomas is the gateway island of the U.S. Virgin Islands in the Caribbean Sea, best known for its beaches and snorkeling spots. The territory's capital, Charlotte Amalie is a busy cruise-ship port. Historic buildings include a 1679 watchtower called[…]
Day 5 – At Sea cruising
Discover exciting new entertainment offerings – lively music, stunning choreography, and beautiful venues that make Icon of the Seas' onboard entertainment among the best at sea.
Day 6
CocoCay, Bahamas, is Royal Caribbean's private island used as a stopover on Caribbean cruises from Florida. It is located approximately 55 miles north of Nassau. The island was originally called Little Stirrup Cay. After Royal Caribbean took over the lease[…]
Day 7
Visit Miami for at least a few days before and after the cruise to give time for exploration. Miami is one of the world's most fascinating, energetic, and storied cities, which you should visit before or after your Caribbean and[…]
---
Eastern Caribbean cruises are fantastic ways to explore magical islands, beautiful beaches, crystal clear waters, fantastic food, among other things. Visit St. Kitts, St. Thomas and CocoCay on this cruise with Royal Caribbean. Icon of the Seas leaving Miami, Florida for 7 nights from September 7, 2024.