Port Everglades multi-level parking complex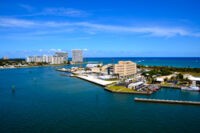 The Fort Lauderdale's Port Everglade multi-level on-site parking complex has more than 12,000 spaces for hourly and daily onsite parking. Parking for cruise passengers is available in the Northport and Midport Parking Garages and the Northport and Midport Surface Lots. After dropping off your checked luggage at the pier terminal with the porters and cruise line representative, proceed to the appropriate parking garage for that terminal. Rates are $15 USD per day for the regular vehicles and $19 for the oversized vehicles.
Northport parking garage
The 2,500-space Northport garage services. Northport cruise terminals including Cruise Terminals 1 & 2.
Northport surface lot
Cruise Terminal 4 has its own dedicated lot with 172 surface parking spaces.
Midport Parking Garages
The Midport parking garage is a 2000-space garage and services Midport Cruise Terminals 19, 21, 22/24, 25, 26, 27 and 29.
Midport Surface Lots
Cruise Terminal 18 has its own 600-space surface parking lot adjacent to the terminal.