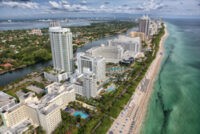 Port Everglades, a major seaport and one of the top three cruise ports in the world, is located in Broward County, Fort Lauderdale, Florida. It is situated just two miles from the international airport in Florida. Port Everglades has eight contemporary cruise terminals that welcome ships from major cruise lines including Celebrity Cruises, Holland America Line, Princess Cruises, Royal Caribbean, and Viking Cruises. Port has free wifi, restrooms, a large lounging area with a cafeteria, a retail center, and a few exhibition halls. It is about 48 miles south of West Palm Beach, 312 miles south of Jacksonville, and 23 miles north of Miami.

Fort Lauderdale Hollywood Airport
Ft Lauderdale Airport (FLL) located in Fort Lauderdale; in Broward County, Florida; is the closest commercial airport to Fort Lauderdale's and Hollywoods's world-class beaches, the Broward Center for the Performing Arts, the Museum of Discovery and Science with its IMAX Theater, the Museum of Art, the Florida Grand Opera, the Fort Lauderdale Historical Center and more.
Fort Lauderdale, FL
Port Everglades
1850 Eller Drive
Fort Lauderdale, Florida 33316
Port Everglades Cruise Ship Terminals
Terminals 2 and 4 are located at the north end of Port Everglades called Northport. The cruise ship terminals 18, 19, 21, 25, 26, and 29 are located at Midport, the center area of Port Everglades.
Northport Cruise Terminal at Fort Lauderdale
Northport's two major terminals have the usual services like check-in desks, disabled access, seating areas, full A/C, vending machines and luggage handling. Terminals 2 and 4 share the multi-story Northport garage parking complex. Princess Cruises uses Terminal 2, and MSC uses Terminal 4. The Northport parking garage has 2000 parking spaces.
Turn south on Eisenhower Blvd. from 17th Street Causeway, or come east on State Road 84, entering the Port and turning left at Eisenhower Blvd.
From I-595, go east straight into the Port. Follow signs for Terminals #1, 2 and/or the Convention Center.
Midport Cruise Terminal at Fort Lauderdale
Facilities at all Midport cruise terminals include seating areas, vending machines, and restrooms, as well as places to handle bags and accommodate those with disabilities. Terminal 18 has a dedicated parking lot. The massive Midport garage serves Terminals 19, 21, 22, 24, 25, 26, 27, and 29. The Royal Caribbean, Princess, Carnival, and Holland America lines all use Terminal 18, while other lines use Terminals 19, 21, 25, 26, and 29.
Take I-595 east straight into the Port. Continue heading east to the garage on the left side of the street.
Port Everglades parking
There are about 4,000 parking spots available for hourly and daily use at the Port Everglade parking garage in Fort Lauderdale. Parking garages and surface lots in Northport and Midport are accessible for cruise ship visitors. When you arrive at the pier terminal, hand over your bags to the porters and the cruise company agent, and then drive to the parking garage associated with the pier terminal.