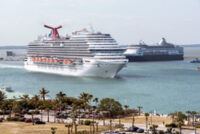 Port Canaveral is about 45 minutes east of Orlando, Florida. Its location is perfect because Orlando has a lot to offer, from theme parks and the arts to food and fun things to do before or after a cruise to the Bahamas or another tropical destination. The best time to visit Orlando is from March to May. That's when you'll discover the most pleasant weather and agreeable prices on travel and hotels. Similarly, September to mid-November offers pleasant temperatures and reasonable airfare and hotel costs, but the autumn months are the busiest months of Florida's hurricane season, which runs from June to November.

Port Canaveral (Orlando) Tourist Attractions
Port Canaveral is close to Orlando's theme parks as well as the displays at the Kennedy Space Center. Put on your flip-flops, sink your toes into the smooth white sand, and soak up the crystal blue seas of some of the beaches near Port Canaveral.
Jetty Park Beach
Jetty Park Beach is one of the most popular attractions in Brevard County and draws visitors from all over the world because it is the closest beach to Orlando. Jetty Park Beach provides something for everyone, whether you want to spend your day on the beach working on your golden Florida tan, constructing an enormous sandcastle, or surfing the prime waves of ocean bliss. The beaches at Jetty Park also have cutting-edge beach cleaning technology to keep them in great shape and make sure you have the best beach day ever.
Cocoa Beach
Cocoa Beach, classic beach town is located just minutes from Port Canaveral, and is a great place to relax at before and/or after a cruise from Port Canaveral. There's nothing better than getting your family together and taking part in water sports (such as deep sea fishing and parasailing), dining, golfing, shopping, enjoying the great nightlife, or simply relaxing under the sun at the beach.
Orlando's Theme Parks
Visitors both young and young at heart can immerse themselves in the world's top theme parks right here in Orlando. From the classic Magic Kingdom Park at Walt Disney World Resort to The Wizarding World of Harry Potter at Universal Orlando Resort, there's a world for everyone to escape into. Orlando, the "Theme Park Capital of the World," has enough to keep your family entertained for weeks if not months on end.
Kennedy Space Center
Port Canaveral is in the middle of what's known as Florida's 72-mile Space Coast, the premier attraction is the Kennedy Space Center, where guests can see, hear and touch NASA's glorious past, and talk to actual astronauts. The U.S. Astronaut Hall of Fame, six miles from the visitors' center, houses the world's largest collection of astronaut memorabilia, board life-size replicas of the space shuttle Explorer, as well as displays, exhibits and tributes to the heroes of Mercury, Gemini and Apollo.