Cruises from Port Everglades.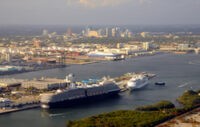 Fort Lauderdale's port is called Port Everglades, situated on the coastline of the city of Fort Lauderdale. Cruises from Fort Lauderdale, Florida are abundant and are a great option to get away on a cruise vacation. Fort Lauderdale, known for its beaches, arts, culture and boating canals is a city on Florida's southeastern coast. The Strip is a promenade running along oceanside highway A1A. It's lined with upscale outdoor restaurants, bars, boutiques and luxury hotels. Other attractions include the International Swimming Hall of Fame, with pools and a museum of memorabilia, and Hugh Taylor Birch State Park, featuring trails and a lagoon.
Fort Lauderdale Tourist Attractions. Fort Lauderdale is a predominantly residential resort city with a Venice-like series of canals and waterways. Fort Lauderdale and all of Broward County offers attractions and activities for every interest. History speaks at the Stranahan House[…]
Port Everglades Cruise Port
Port Everglades is approximately 2 miles from Fort Lauderdale International Airport and 30 miles from Miami International Airport. Parking is $15.00 per day (rates subject to change by Port Authority). Cruises available out of Fort Lauderdale include the Bahamas (Freeport, Half Moon Cay and Nassau), the Eastern Caribbean (St. Kitts, St Thomas, Tortola, San Juan and St Maarten), the Western Caribbean (Grand Cayman, Cozumel, Jamajca, Roatan and Belize), and the Southern Caribbean (Barbados, Curacao, Antigua, Bonaire and Aruba).
Fort Lauderdale Cruise Port. Port Everglades. Port Everglades located in Greater Fort Lauderdale/Hollywood, Florida is one of the most diverse seaports in the United States and one of the top three cruise ports in the world. Port Everglades is among the[…]