Cruises from Tampa.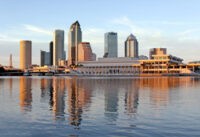 Cruises out of Tampa, Florida make great vacations. Cruise from Tampa and step into the excitement of Tampa Bay's many historical attractions as well as restaurants, shops, and bars. Tampa is a major city and business center on Tampa Bay, along Florida's Gulf Coast. It is located on the west coast of Florida on Tampa Bay, near the Gulf of Mexico, and is part of the Tampa Bay Metropolitan Area. Generally, the city is divided into the following areas: Downtown Tampa, New Tampa, West Tampa, East Tampa, North Tampa, and South Tampa. Well-known neighborhoods include Ybor City, Forest Hills, Ballast Point, Sulphur Springs, Seminole Heights, Tampa Heights, Palma Ceia, Hyde Park, Davis Islands, Tampa Palms, College Hill, and non-residential areas of Gary and the Westshore Business District.
Tampa Bay offers Florida's most excitement and relaxation.  It's also known for its museums and other cultural offerings. One day you're enjoying thrill rides and animal encounters, the next you're strolling Tampa's historic Ybor City and catching a Broadway show.
Tampa Tourist Attractions
Ybor City
Ybor City is a historic neighborhood in Tampa, Florida, United States, located just northeast of downtown. The historic Latin quarter and former center of cigar manufacturing wears two hats today: a creamy Panama for daytime lunching, shopping, cigar smoking and coffee sipping, and a black fedora for the high-spirited playground it becomes at night. Clubs like Prana and Empire set the bar pretty high, places where internationally-known DJs visit all the time.
Lowry Park Zoo
Tampa's Lowry Park Zoo is a 63-acre nonprofit zoo located in Tampa, Florida devoted to educating the community and preserving endangered wildlife. The Zoo emphasizes endangered, threatened and vulnerable species from climates similar to that of the Tampa Bay region, with park areas devoted to Asia, Africa, Australia and Florida.
Busch Gardens Tampa
Busch Gardens Tampa one of Florida's epic theme park for ultimate family adventure, offering 300 acres of fascinating attractions based on exotic explorations around the world. A unique blend of thrilling rides, one of the country's premier zoos with more than 12,000 animals,
Adventure Island
If you looking for fun, adventure and challenge, you've found it at Advanture Island. Climbing walls, suspended bridges, swinging ropes, hanging nets, soaring ZIP lines and more
Channelside Bay Plaza
Channelside Bay Plaza is a great entertainment destination for local and out of town guests alike to enjoy Tampa's next great urban waterfront. This waterside collection of retailers, nightlife, and restaurants is centered on an attractive, European-style brick plaza that features palm trees, fountains and umbrella-shaded tables.
Florida Aquarium
Immerse yourself in one of the top family-friendly aquariums in the country with interactive programs like "Swim with the Fishes" and "Dive with the Sharks". Experience sharks, alligators, penguins and much more.
Tampa Cruise Port. The Port of Tampa in Florida is a popular destination for a growing number of cruise passengers, who want to enhance the cruise experience with a day or two at either the front end or on the[…]