4-day Western Caribbean cruise on board Radiance of the Seas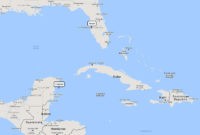 Cruising from: Tampa, Florida;
Departure Date: December 14, 2023;
Duration: 4-day cruise;
Cruise Line: Royal Caribbean;
Cruise Ship: Radiance of the Seas;
Ports of Call: Tampa, Cozumel, Tampa;
Enjoy magnificent scenery and unique experiences on this cruise to Cozumel, Mexico with Royal Caribbean
Day 0

Cruises from Tampa, Florida, can be incredibly exciting and relaxing. Tampa is a great place to start a Caribbean cruise because of its unique blend of old buildings and modern landmarks. Its culture is influenced by Cuban and Spanish characteristics,[…]
Day 1 – At Sea cruising
There are plenty of daily activities on board Radiance of the Seas to keep you busy. Radiance of the Seas has everything a discerning cruiser could want, bars, sports venues and shops.
Day 2

Cozumel is Mexican island in the Caribbean Sea at tip of the Yucatan Peninsula, regular port of call on Western Caribbean itineraries, particularly those leaving from Florida. The main town on the island is San Miguel de Cozumel. Most of[…]
Day 3 – At Sea cruising
Experience the relaxed ambience onboard Radiance of the Seas attentive service from a friendly staff that knows what hospitality means, you'll find your Radiance of the Seas ship truly is your home away from home.
Day 4

Cruises from Tampa, Florida, can be incredibly exciting and relaxing. Tampa is a great place to start a Caribbean cruise because of its unique blend of old buildings and modern landmarks. Its culture is influenced by Cuban and Spanish characteristics,[…]
---
Western Caribbean cruises are fantastic ways to explore magical islands, beautiful beaches, crystal clear waters, fantastic food, among other things. Discover the best of Mexico, visit Cozumel. Radiance of the Seas leaving Tampa, Florida for 4 nights from December 14, 2023.