Cruises from Port Canaveral (Orlando).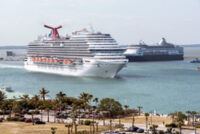 Port Canaveral (Orlando) is a cruise, cargo and naval port in Brevard County, in the center of Florida's east coast, United States. Cruises from Port Canaveral are quite popular year round. Most cruise passengers associate Port Canaveral with Orlando, just 45 miles west, where visitors can have the ultimate Florida vacation by combining with Walt Disney World, Universal theme parks and SeaWorld so close, it would be difficult to find a cruise port anywhere that offers access to more theme parks and family-friendly tourist attractions. Carnival, Disney, Norwegian and Royal Caribbean International are some of the cruise lines which dock at one of the five Port Canaveral cruise terminals.
Port Canaveral (Orlando) Tourist Attractions
Orlando's Theme Parks
Visitors both young and young at heart can immerse themselves in the world's top theme parks right here in Orlando. From the classic Magic Kingdom Park at Walt Disney World Resort to The Wizarding World of Harry Potter at Universal Orlando Resort, there's a world for everyone to escape into. Orlando, the "Theme Park Capital of the World," has enough to keep your family entertained for weeks if not months on end.
Kennedy Space Center
Port Canaveral is in the middle of what's known as Florida's 72-mile Space Coast, the premier attraction is the Kennedy Space Center, where guests can see, hear and touch NASA's glorious past, and talk to actual astronauts. The U.S. Astronaut Hall of Fame, six miles from the visitors' center, houses the world's largest collection of astronaut memorabilia, board life-size replicas of the space shuttle Explorer, as well as displays, exhibits and tributes to the heroes of Mercury, Gemini and Apollo.
Cocoa Beach
Cocoa Beach, classic beach town is located just minutes from Port Canaveral, and is a great place to relax at before and/or after a cruise from Port Canaveral. There's nothing better than getting your family together and taking part in water sports (such as deep sea fishing and parasailing), dining, golfing, shopping, enjoying the great nightlife, or simply relaxing under the sun at the beach.
Port Canaveral Cruise Port. Port Canaveral is ranked as the world's 2nd busiest cruise port in multi-day embarkations. The "A" terminal is where the large cruise ships from Disney, Royal Caribbean, Carnival and NCL make their home. You will take this exit[…]