7-day cruise from Miami to Ocho Rios, George Town, Cozumel and Ocean Cay on board MSC Cruises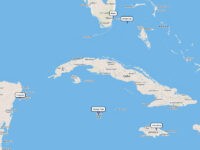 Cruising from: Miami, Florida;
Departure Date: March 13, 2021;
Duration: 7-day cruise;
Cruise Line: MSC Cruises;
Cruise Ship: MSC Seaside;
Ports of Call: Miami, Ocho Rios, George Town, Cozumel, Ocean Cay, Miami;
Enjoy magnificent scenery and unique experiences on this Western Caribbean cruise to Jamaica, Grand Cayman, Mexico and Bahamas cruise with MSC Seaside
Day 0

Day 1 – At Sea cruising
Cruising aboard MSC Seaside elevates fun at sea to an art form. MSC Seaside demonstrates a true mastery of the craft with an onboard collage of fun spots for you to enjoy.
Day 2

Day 3

Day 4

Day 5 – At Sea cruising
There are plenty of daily activities on board MSC Seaside to keep you busy. MSC Cruises has everything a discerning cruiser could want, bars, pools, sports venues and shops.
Day 6

Day 7

---
Sail with MSC Cruises from Miami to the best of Western Caribbean on board MSC Seaside. Discover the best of Jamaica, Grand Cayman, Mexico and Bahamas and explore beautiful Ocho Rios, George Town, Cozumel and Ocean Cay. MSC Seaside leaving Miami, Florida for 7 nights from March 13, 2021.