7-day cruise to Ocho Rios, George Town, Cozumel and Ocean Cay with MSC Cruises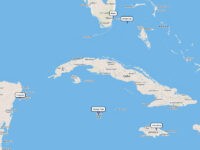 Cruising from: Miami, Florida;
Departure Date: December 2, 2023;
Duration: 7-day cruise;
Cruise Line: MSC Cruises;
Cruise Ship: MSC Seashore;
Ports of Call: Miami, Ocho Rios, George Town, Cozumel, Ocean Cay, Miami;
Enjoy magnificent scenery and unique experiences on this Western Caribbean cruise to Jamaica, Grand Cayman, Mexico and the Bahamas cruise with MSC Seashore
Day 0
There are a wide variety of cruises that depart from Miami, Florida, which is why it is an excellent choice for embarking on a memorable cruise holiday. Besides that, PortMiami is the world's largest passenger port and one of the[…]
Day 1 – At Sea cruising
Cruising aboard MSC Seashore elevates fun at sea to an art form. MSC Seashore demonstrates a true mastery of the craft with an onboard collage of fun spots for you to enjoy.
Day 2
Ocho Rios is a port town in the parish of Saint Ann on Jamaica's north coast and a popular stop on Western Caribbean cruises, particularly those departing from Florida. Ocho Rios, a former fishing village, is now Jamaica's tourist center[…]
Day 3
The Cayman Islands, which are world-renowned for their cuisine, snorkeling, and diving, provide an adventure for individuals of all ages and interests. The majority of them are cruise ship guests who spend a few hours shopping, sunning, or swimming with[…]
Day 4
Cozumel is Mexican island in the Caribbean Sea at tip of the Yucatan Peninsula, regular port of call on Western Caribbean itineraries, particularly those leaving from Florida. The main town on the island is San Miguel de Cozumel. Most of[…]
Day 5 – At Sea cruising
There are plenty of daily activities on board MSC Seashore to keep you busy. MSC Cruises has everything a discerning cruiser could want, bars, pools, sports venues and shops.
Day 6
If you've always wanted to sail the lovely Bahamas from Florida, MSC Cruises has now made it easier. MSC Cruises has launched its own private island, Ocean Cay MSC Marine Reserve, in the Bahamas. Ocean Cay, located 65 miles east[…]
Day 7
Visit Miami for at least a few days before and after the cruise to give time for exploration. Miami is one of the world's most fascinating, energetic, and storied cities, which you should visit before or after your Caribbean and[…]
---
Sail with MSC Cruises from Miami to the best of Western Caribbean on board MSC Seashore. Discover the best of Jamaica, Grand Cayman, Mexico, the Bahamas and explore beautiful Ocho Rios, George Town, Cozumel and Ocean Cay. MSC Seashore leaving Miami, Florida for 7 nights from December 2, 2023.