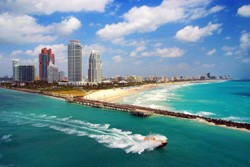 Visit Miami for at least a few days before and after the cruise to give time for exploration. Miami is one of the world's most fascinating, energetic, and storied cities, which you should visit before or after your Caribbean and Bahamas cruise. Visitors come from all over to enjoy the city's beaches, gastronomy, unique culture, and nightlife. Summers are often hot, oppressive, damp, and largely cloudy, whereas winters are brief, comfortable, humid, windy, and mostly clear. The best time to visit Miami for warm-weather outdoor activities is from early November to late April.
Miami Tourist Attractions
Miami is located on the Florida peninsula's southeast corner, where the Atlantic Ocean meets the Gulf of Mexico. Visiting Miami means more than just seeing one place. It provides an opportunity to see numerous diverse communities, each with its own style, culture, and architecture. There is an astounding selection of tourist attractions in Miami to admire and enjoy, from the Art Deco buildings on Miami Beach to the colorful residences in Little Havana. Miami is also known for its beautiful beaches, nonstop nightlife, and pleasant weather.
Miami Beach
Miami Beach is a separate municipality from the city of Miami. Pops of color, as well as the style's prominent architectural lines, curves, and fountains, can be found all across Miami Beach, but particularly in the historic neighborhood. The Art Deco Historic District in Miami Beach is located between 5th and 23rd Streets, along Ocean Drive, Collins Avenue, and Washington Avenue. It is on an island that is linked to the mainland via a series of bridges. As the city's most famous beach, Miami Beach is synonymous with the idea of a relaxing day in the sun.
Zoo Miami
Along its three miles of pathway, the Zoo Miami is home to approximately 2,000 different species of natural animals, including mammals, fish, birds, amphibians, and reptiles. Tigers, elephants, zebras, bears, lions, gorillas, and chimpanzees are among the fascinating species that are on display here. Animals such as flamingos, pelicans, giraffes, and rhinos should be fed. Visitors to the zoo get the opportunity to get up close and personal with endangered species thanks to cage-free environments and open-air exhibits.
Little Havana
The Cuban district of Miami, known as Little Havana, is a little neighborhood that packs a significant cultural punch. It was established in the years after Castro's revolution, and today it is home to one-third of Miami's total population of 2 million people. Calle Ocho, also known as Southwest Eighth Street, is the heart of little Havana and the backdrop for the majority of the activity in the neighborhood. But over time, the neighborhood has grown to include streets and avenues from the surrounding area.