Miami Cruise Port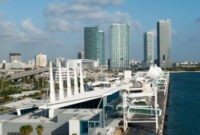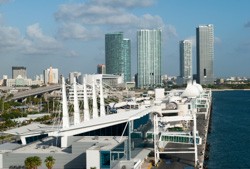 The Miami cruise terminal is located on Dodge Island, just across the causeway that connects Miami Beach and Downtown Miami. PortMiami is the best cruise port in the world, and it stays at the top by adding more ships and high-tech amenities to its passenger terminal. PortMiami is the preferred embarkation point for cruises to the Bahamas, the Caribbean, Mexico, and beyond, and it serves as a homeport for a wide range of cruise lines, providing options for cruise vacations suited to every traveler's needs and budget, from cheap and fun to lavish and extravagant. The Port Boulevard bridge takes you to the three islands that make up the port, which is in Biscayne Bay east of downtown Miami.
Traveling from Miami Airport
PortMiami is located 7 miles from Miami International Airport and 25 miles from Fort Lauderdale-Hollywood International Airport. Time spent in transit varies considerably according to factors like traffic and daylight hours.
Cruise Shuttle – around $17 per person
Private Airport Shuttle – $20-40 per vehicle
Taxi – $27 per vehicle fixed rate
Uber/Lyft – $20 per vehicle
Private Car – From $100 for a luxury sedan
Private Van – Around $125 per vehicle
Luxury Limo – Around $150 for a private limousine
Miami Train/Metromover/Taxi – $16 per person
Bus – N/A
Hotel Shuttle – Free with a night's stay at many Miami hotels
Cruise Ship Terminals
Port of Miami – Cruise Terminal
1015 North America Way
Miami, Florida 33132
Every major cruise line in the industry is responsible for maintaining and operating its own terminal in Miami. These are the allocated terminals for each cruise line:
Azamara – Terminal J
Carnival Cruises – Terminals D, E and F
Celebrity Cruises – Terminal G
Crystal – Terminal J
Disney Cruise Line – Terminal K
MSC Cruises – Terminal AA/AAA
Norwegian Cruise Line (NCL) – Terminal B
Oceania – Terminal J
Regent Seven Seas – Terminal J
Royal Caribbean – Terminals A, G
Virgin Cruises – Terminal V
Miami Port Parking
Every one of Miami's cruise piers has parking lots where you can leave your car. Cruise passengers need to prepay $20 per day for parking before setting sail. Miami Cruise Port has some of the most modern terminal facilities, with more on the way. Each terminal has the capability to handle a large number of passengers and features amenities such as a VIP waiting area, state-of-the-art security screening equipment, airline ticket counters, and a luggage conveyor. The cruisers can park in any of the four garages (C, D, G, and J) or on Lot 2.
Garage C – Terminals B & C
Garage & Lot D – Terminal D
Lot E – Terminal E
Garage G – Terminals F, G & H
Garage & Lot J – Pre-paid Parking only – Terminal J
Lot 2 – Oversized Vehicle Parking – centrally located beside Lot E