5-day cruise to George Town and Castaway Cay with Disney Cruise Line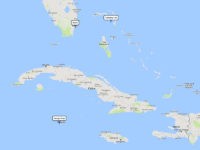 Cruising from: Miami, Florida;
Departure Date: September 30, 2023;
Duration: 5-day cruise;
Cruise Line: Disney Cruise Line;
Cruise Ship: Disney Magic;
Ports of Call: Miami, George Town, Castaway Cay, Miami;
Enjoy magnificent scenery and unique experiences on this Western Caribbean cruise on board Disney Magic
Day 0
There are a wide variety of cruises that depart from Miami, Florida, which is why it is an excellent choice for embarking on a memorable cruise holiday. Besides that, PortMiami is the world's largest passenger port and one of the[…]
Day 1 – At Sea cruising
Cruising aboard Disney Magic elevates fun at sea to an art form. Disney Magic demonstrates a true mastery of the craft with an onboard collage of fun spots for you to enjoy.
Day 2
The Cayman Islands, which are world-renowned for their cuisine, snorkeling, and diving, provide an adventure for individuals of all ages and interests. The majority of them are cruise ship guests who spend a few hours shopping, sunning, or swimming with[…]
Day 3 – At Sea cruising
Entertainment on Disney Magic will feature more to do onboard, with more time to do it.
Day 4
Castaway Cay is a private island reserved exclusively for Disney Cruise Line guests on Bahamian and Caribbean cruises. Located near Great Abaco Island, it is often used as a stopover for Disney cruises from Florida. The Disney ship docks right[…]
Day 5
Visit Miami for at least a few days before and after the cruise to give time for exploration. Miami is one of the world's most fascinating, energetic, and storied cities, which you should visit before or after your Caribbean and[…]
---
Western Caribbean cruises are fantastic ways to explore magical islands, beautiful beaches, crystal clear waters, fantastic food, among other things. Discover the best of Cayman Islands and Bahamas, visit George Town and Disney Castaway Cay on this mini cruise with Disney Cruise Line. Disney Magic leaving Miami, Florida for 5 nights from September 30, 2023.