10-day cruise to Puerto Plata, San Juan, St. Croix, St. Johns, St. Kitts & St. Maarten with Celebrity Cruises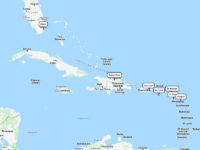 Cruising from: Miami, Florida;
Departure Date: February 27, 2023;
Duration: 10-day cruise;
Cruise Line: Celebrity Cruises;
Cruise Ship: Celebrity Silhouette;
Ports of Call: Miami, Puerto Plata, San Juan, St. Croix, St. Johns, St. Kitts, St. Maarten, Miami;
Enjoy magnificent scenery and unique experiences on this Eastern Caribbean cruise with Celebrity Silhouette
Day 0

Cruises from Miami PortMiami, originally the Dante B. Fascell Port of Miami, is a significant seaport in Miami, Florida, located on Biscayne Bay. It is the world's largest passenger port and one of the busiest cargo ports in the United[…]
Day 1 – At Sea cruising
Cruising aboard Celebrity Silhouette elevates fun at sea to an art form. Celebrity Silhouette demonstrates a true mastery of the craft with an onboard collage of fun spots for you to enjoy.
Day 2

On the northern Atlantic coast of the Dominican Republic, you'll find the city of San Felipe de Puerto Plata, which serves as the provincial capital. Enjoy the all-inclusive beach resorts that line the beachfront at Puerto Plata, which was the[…]
Day 3

Cruises to San Juan. San Juan is the capital and largest city in the northeast of the island of Puerto Rico.  San Juan, the capital of Puerto Rico, has a vibrant nightlife, many casinos and bars, and is close to[…]
Day 4

Cruises to St. Croix, US Virgin Islands Saint Croix is the largest of the four U. S. Virgin Islands in the Caribbean Sea. Ringed by beaches of all shapes and sizes, white sand, turquoise waters St. Croix diverse landscapes allow[…]
Day 5

Cruises to St. John's. St. John's is the capital, largest city and key port of the Caribbean island nation of Antigua and Barbuda. The city is home to the Museum of Antigua and Barbuda, with exhibits on indigenous tribes and plantation[…]
Day 6

Cruises to Federation of Saint Kitts and Nevis. Saint Kitts and the neighbouring island of Nevis constitute one country: the Federation of Saint Kitts and Nevis. Port Zante is where cruise ship passengers arrive in Basseterre to be greeted by[…]
Day 7

Cruises to Sint Maarten – Saint Martin. St. Maarten, a popular cruise-ship stop is part of the Kingdom of the Netherlands, an island country on the southern part of a Caribbean island shared with Saint Martin, a French overseas collectivity.[…]
Day 8 – At Sea cruising
Each cruise line has their own unique way to pamper you and indulge your senses. There is always something to do onboard Celebrity cruise ship.
Day 9 – At Sea cruising
There are plenty of daily activities on board Celebrity Silhouette to keep you busy. Celebrity Silhouette has everything a discerning cruiser could want, bars, sports venues and shops.
Day 10

Visit Miami for at least a few days before and after the cruise to give time for exploration. Miami is one of the world's most fascinating, energetic, and storied cities, which you should visit before or after your Caribbean and[…]
---
Eastern Caribbean cruises are fantastic ways to explore magical islands, beautiful beaches, crystal clear waters, fantastic food, among other things. Discover the best of Dominican Republic, Puerto Rico, US Virgin Islands, Dutch Caribbean and Antigua visit Puerto Plata, San Juan, St. Croix, St. Johns, St. Kitts and St. Maarten on this cruise with Celebrity Cruises. Celebrity Silhouette leaving Miami, Florida for 10 nights from February 27, 2023.