JAXPORT Cruise Terminal, Jacksonville cruise Port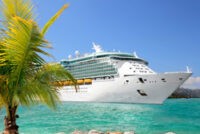 JAXPORT's cruise facility is located near the northwest corner of Dames Point, bordered by Heckscher Drive and I-295 in Northeast Jacksonville, 15 minutes from the Jacksonville International Airport.
JAXPORT Cruise Terminal
9810 August Drive
Jacksonville, FL 32226
Carnival Cruise Parking Jacksonville
JAXPORT offers secure parking in for Carnival cruise guests on JAXPORT property located near the Cruise Terminal building, requiring only a short walk. Well lighted and fenced parking area is patrolled by JAXPORT security 24 hours per day.
Jacksonville International Airport
The city's major airport is Jacksonville International Airport (JAX), located about 12 miles from the cruise terminal. JAXPORT's franchised taxi service provides taxi and mini-van service from the cruise terminal to Jacksonville International Airport.
Traveling from the Jacksonville International Airport:
Leave the airport via Airport Road, traveling east toward I-95.
Take I-95 South for one mile.
Exit at State Road 9-A South, Exit #362-A.
Take State Road 9-A South for six miles.
Turn right on Heckscher Drive (SR 105).
Cross over New Berlin Road and go about a 1/2-mile.
Turn left on August Drive into the cruise terminal entrance.