Fort Lauderdale Tourist Attractions.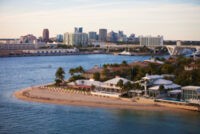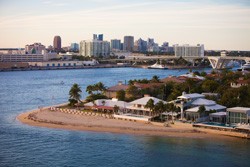 Fort Lauderdale is a predominantly residential resort city with a Venice-like series of canals and waterways. Fort Lauderdale and all of Broward County offers attractions and activities for every interest. History speaks at the Stranahan House and Bonnet House Museum & Gardens. Visit Sawgrass Recreation Park and enjoy the wonders of the Florida Everglades.
Fort Lauderdale Beach
One of the most popular beaches in all of Florida, Fort Lauderdale Beach lies at the heart of the tourist area in Fort Lauderdale. The beachfront area is known for its cleanliness and the variety of shops, dining options and nightlife destinations. Visitors gather here to enjoy volleyball, boating, wind surfing, jet skiing, snorkeling, scuba diving and deep-sea fishing.
Stranahan House
Stranahan House is the home of Fort Lauderdale pioneers Frank and Ivy Stranahan. Built in 1901 as a trading post and converted into a residence for the Stranahans in 1906, the house is the oldest surviving structure in Broward County.
Bonnet House Museum & Gardens
The Bonnet House is a historic home in Fort Lauderdale, Florida. Bonnet House Museum & Gardens is accredited by the American Alliance of Museums. The site was listed on the National Register of Historic places historic and declared as landmark by the City of Fort Lauderdale.
Sawgrass Recreation Park
Located only 30 minutes outside downtown Ft Lauderdale, the Sawgrass Recreation Park offers guided airboat rides through the marshy, humid swamp waters of the Florida Everglades. Take an airboat tour of the Florida Everglades at the Sawgrass Recreation Park, home to a huge range of flora and fauna, including a variety of birds, fish and alligators.