3-day mini cruise to Castaway Cay with Disney Cruise Line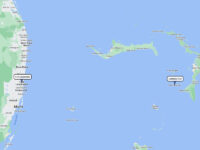 Cruising from: Fort Lauderdale (Port Everglades), Florida;
Departure Date: April 12, 2024;
Duration: 3-day cruise;
Cruise Line: Disney Cruise Line;
Cruise Ship: Disney Dream;
Ports of Call: Fort Lauderdale, Castaway Cay, Fort Lauderdale;
Enjoy magnificent scenery and unique experiences on this Bahamas cruise on board Disney Dream
Day 0
Fort Lauderdale is the embarkation point for many cruise lines that take vacationers on fantasy trips to the Caribbean Sea. Fort Lauderdale's Port Everglades has eight contemporary cruise terminals that welcome ships from major cruise companies. Above all, the terminals[…]
Day 1
Castaway Cay is a private island reserved exclusively for Disney Cruise Line guests on Bahamian and Caribbean cruises. Located near Great Abaco Island, it is often used as a stopover for Disney cruises from Florida. The Disney ship docks right[…]
Day 2 – At Sea cruising
Cruising aboard Disney Dream elevates fun at sea to an art form. Disney Dream demonstrates a true mastery of the craft with an onboard collage of fun spots for you to enjoy.
Day 3
Fort Lauderdale is a residential resort city with a Venice-like series of canals and waterways. Fort Lauderdale and the rest of Broward County have plenty to offer visitors of all ages and tastes, from museums to beaches to theme parks. The[…]
---
Bahamas cruises are fantastic ways to explore magical islands, beautiful beaches, crystal clear waters, fantastic food, among other things. Visit Nassau and Castaway Cay. Disney Dream leaving Fort Lauderdale (Port Everglades), Florida for 3 nights from April 12, 2024.