9-day cruise to George Town, Aruba, Curaçao & Bonaire on board Celebrity Cruises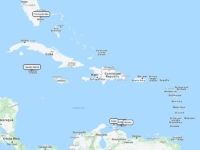 Cruising from: Fort Lauderdale (Port Everglades), Florida;
Departure Date: March 23, 2024;
Duration: 9-day cruise;
Cruise Line: Celebrity Cruises;
Cruise Ship: Celebrity Equinox;
Ports of Call: Fort Lauderdale, George Town, Aruba, Bonaire, Curaçao, Fort Lauderdale;
Visit Grand Cayman & ABC Islands with Celebrity Equinox
Day 0
Fort Lauderdale is the embarkation point for many cruise lines that take vacationers on fantasy trips to the Caribbean Sea. Fort Lauderdale's Port Everglades has eight contemporary cruise terminals that welcome ships from major cruise companies. Above all, the terminals[…]
Day 1 – At Sea cruising
Cruising aboard Celebrity Equinox elevates fun at sea to an art form. Celebrity Equinox demonstrates a true mastery of the craft with an onboard collage of fun spots for you to enjoy.
Day 2
The Cayman Islands, which are world-renowned for their cuisine, snorkeling, and diving, provide an adventure for individuals of all ages and interests. The majority of them are cruise ship guests who spend a few hours shopping, sunning, or swimming with[…]
Day 3 – At Sea cruising
Whether you like to indulge in food, sport, games or education, there are tons of cruise activities aboard every Celebrity ship.
Day 4
Aruba, a tiny Dutch Caribbean island off the coast of Venezuela in the southern Caribbean Sea, has dry, sunny weather, blond beaches, and gentle surf. Because of that, Aruba is a very popular port of call for cruise ships. Ships[…]
Day 5
Bonaire is a Caribbean island located in the Leeward Antilles. It is part of the ABC Islands Group, which also includes Aruba and Curacao. Kralendijk is the capital of Bonaire. Bonaire National Marine Park protects its reef-lined coast. Aside from[…]
Day 6
Curacao, along with Bonaire and Aruba, form the ABC islands, which are located near the coast of Venezuela. Curacao, a Dutch Caribbean island, is famed for its tucked-away beaches and enormous coral reefs teeming with marine life. Curacao has two[…]
Day 7 – At Sea cruising
Discover exciting new entertainment offerings – lively music, stunning choreography, and beautiful venues that make Celebrity Equinox' onboard entertainment among the best at sea.
Day 8 – At Sea cruising
There are plenty of daily activities on board Celebrity Equinox to keep you busy. Celebrity Equinox has everything a discerning cruiser could want, bars, pools, sports venues and shops.
Day 9
Fort Lauderdale is a residential resort city with a Venice-like series of canals and waterways. Fort Lauderdale and the rest of Broward County have plenty to offer visitors of all ages and tastes, from museums to beaches to theme parks. The[…]
---
Southern Caribbean cruises are fantastic ways to explore magical islands, beautiful beaches, crystal clear waters, fantastic food, among other things. Cruise from Fort Lauderdale (Port Everglades) to George Town, Curaçao, Bonaire & Aruba. Enjoy magnificent scenery and unique experiences on this Southern Caribbean cruise with Celebrity Cruises. Celebrity Equinox leaving Fort Lauderdale (Port Everglades), Florida for 9 days from March 23, 2024.