7-day cruise to San Juan, Tortola & St. Kitts with Celebrity Cruises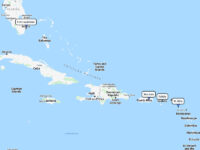 Cruising from: Fort Lauderdale (Port Everglades), Florida;
Departure Date: April 21, 2024;
Duration: 7-day cruise;
Cruise Line: Celebrity Cruises;
Cruise Ship: Celebrity Ascent;
Ports of Call: Fort Lauderdale, San Juan, Tortola, St. Kitts, Fort Lauderdale;
Visit Puerto Rico and Virgin Islands. Enjoy magnificent scenery and unique experiences on this Eastern Caribbean cruise with Celebrity Ascent
Day 0
Fort Lauderdale is the embarkation point for many cruise lines that take vacationers on fantasy trips to the Caribbean Sea. Fort Lauderdale's Port Everglades has eight contemporary cruise terminals that welcome ships from major cruise companies. Above all, the terminals[…]
Day 1 – At Sea cruising
Cruising aboard Celebrity Ascent elevates fun at sea to an art form. Celebrity Ascent demonstrates a true mastery of the craft with an onboard collage of fun spots for you to enjoy.
Day 2
San Juan is the capital and largest city on Puerto Rico's northeast coast. San Juan, Puerto Rico's capital, offers a busy nightlife, numerous casinos and clubs, and is adjacent to some of the island's top all-inclusive resorts. San Juan, often[…]
Day 3
The largest of the British Virgin Islands in the Caribbean is called Tortola. It is made up of a series of islands that are part of the archipelago that makes up the Virgin Islands. The Cruise Pier in Road Town[…]
Day 4
Saint Kitts and the neighbouring island of Nevis constitute one country: the Federation of Saint Kitts and Nevis. Port Zante is where cruise ship passengers arrive in Basseterre to be greeted by streets full of colourful modern shops selling souvenirs[…]
Day 5 – At Sea cruising
Discover exciting new entertainment offerings – lively music, stunning choreography, and beautiful venues that make Celebrity Ascent' onboard entertainment among the best at sea.
Day 6 – At Sea cruising
There are plenty of daily activities on board Celebrity Ascent to keep you busy. Celebrity Ascent has everything a discerning cruiser could want, bars, pools, sports venues and shops.
Day 7
Fort Lauderdale is a residential resort city with a Venice-like series of canals and waterways. Fort Lauderdale and the rest of Broward County have plenty to offer visitors of all ages and tastes, from museums to beaches to theme parks. The[…]
---
Eastern Caribbean cruises are fantastic ways to explore magical islands, beautiful beaches, crystal clear waters, fantastic food, among other things. Cruise from Fort Lauderdale (Port Everglades) to San Juan, Tortola and St. Kitts. Enjoy magnificent scenery and unique experiences on this Eastern Caribbean cruise with Celebrity Cruises. Celebrity Ascent leaving Fort Lauderdale (Port Everglades), Florida for 7 days from April 21, 2024.