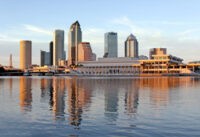 Tampa is a significant metropolis and the commercial core of the Tampa Bay Metropolitan Area. Tampa Bay, located off the lovely Gulf Coast of Central Florida, is a vibrant city worth exploring before or after your Caribbean cruise. It's no surprise that Tampa, has evolved into a year-round booming cruise port for Caribbean itineraries encompassing the Bahamas and the Panama Canal. Tampa is best visited between September and December. The months of May through August are the busiest for regional attractions, and the weather may be oppressively muggy.
Tampa Tourist Attractions
Tampa Bay has the most excitement and relaxation in Florida. For travelers looking to replenish their body and soul, Tampa Bay offers endless sunshine, waving palm trees, and magnificent sunsets. It is also well known for its museums and cultural attractions. You can experience thrill rides and animal encounters, as well as promenade around Tampa's historic Ybor City, downtown Tampa, and Florida's pristine west coast beaches. Thrill-seekers can visit Busch Gardens, which features amazing roller coasters that are sure to get your heart racing.
Ybor City
Northeast of downtown Tampa, Florida, the United States, you'll find the historic district of Ybor City. The ancient Latin area and former center of cigar manufacturing now wears two hats: a black fedora for the high-spirited playground it becomes at night and a creamy Panama for lunching, shopping, cigar smoking, and coffee sipping throughout the day. Places like Prana and Empire, which regularly host world-renowned DJs, have set a high standard.
Lowry Park Zoo
Lowry Park Zoo in Tampa, Florida, is a 63-acre nonprofit zoo dedicated to educating the community and protecting endangered wildlife. The Tampa Bay Zoo focuses on endangered, threatened, and fragile species from places with climates similar to Tampa Bay. There are park areas for Asia, Africa, Australia, and Florida.
Busch Gardens Tampa
Busch Gardens Tampa, one of Florida's enormous theme parks, offers 300 acres of unique activities based on exotic adventures around the world, making it ideal for the ultimate family adventure. One of the best zoos in the country, with over 12,000 species and a unique collection of rides.
Adventure Island
If you're seeking a place that combines fun, excitement, and a little bit of a challenge, you've found it at Adventure Island. Climbing walls, suspended bridges, swinging ropes, hanging nets, and soaring ZIP lines are just some of the elements that make up this challenge.
Channelside Bay Plaza
Channelside Bay Plaza is Tampa's next great urban waterfront, and it's a fantastic place for both locals and visitors to spend time. This group of shops, bars, and restaurants along the water is centered on a brick plaza with palm trees, fountains, and tables with umbrellas for shade.
Florida Aquarium
Immerse yourself in activities such as "Swim with the Fishes" and "Dive with the Sharks" at one of the nation's best family-friendly aquariums, which is ranked among the top aquariums in the country. Learn about a wide variety of animals, including sharks, alligators, and penguins.
Tampa cruise Terminals
Beginning your vacation with a cruise out of Tampa, Florida is sure to be one of the most memorable experiences you've ever had. The Port of Tampa in Florida is a popular destination for a growing number of cruise passengers, who want to enhance the cruise experience with a day or two at either the front end or on the back end of any of a variety of Caribbean itineraries.