Port Canaveral Cruise Port
P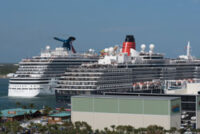 ort Canaveral is ranked as the world's 2nd busiest cruise port in multi-day embarkations. The "A" terminal is where the large cruise ships from Disney, Royal Caribbean, Carnival and NCL make their home. You will take this exit to your right and make a large loop around. Once you make the loop, you will see the cruise ships almost directly ahead of you. Getting to Port Canaveral is easy no matter which airport in Central Florida you arrive at. The port is only 45 minutes away from Orlando International Airport (MCO), and the 528 Expressway leads directly to the Port Canaveral cruise terminal.
Traveling from Orlando International Airport (MCO)
Take the North exit from the airport, staying to the right to the Beachline Expressway (S.R 528 East)
Take Beachline Expressway (S.R 528 East)
Head east toward Port Canaveral
Follow signs for A-Side (North) Terminal and continue toward Cruise Terminals.
Traveling from Orlando Sanford International Airport (SFB)
Approximately 1 hour northwest of Port Canaveral.
Exit the airport south to the Central Florida Greenway (Toll Road 417).
Go south 23 miles to S.R. 528 (the Beach line Expressway) eastbound exit.
Go east (37 miles) to the Port.
Cruise Ship Terminals
Port Canaveral's A-Side North Cruise Terminals
Port Canaveral is divided into two sections by the shipping channel.  The section north of the channel is home to most of the cruise terminals, and it is where most of the cruise ships berth.  Cruise terminals 5, 6, 8, and 10 are located here.  Cruisers taking a Carnival cruise are probably going to boarding at Cruise Terminals 5 and 6. These terminals are easily located after you turn off of 528 for Cruise Terminal A, or Port Canaveral North.
Charles Rowland Drive
Cape Canaveral, FL 32920
Cruise Terminal assignment is posted at the entrance to the port:
– Cruise Terminal #5 – 9245 Charles Rowland Drive
– Cruise Terminal #6 – 9241 Charles Rowland Drive
Port Canaveral Port Parking
For Disney, Royal Caribbean, Carnival and NCL cruises parking is operated by the Port Canaveral Port Authority. Port Canaveral offer secure cruise parking at your terminal and ship. Cruise passengers park at their respective terminals and simply take a short walk to your ship; no need for shuttles.