Miami Tourist Attractions.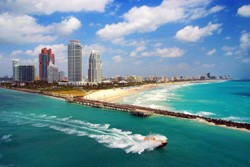 Miami is an international city at southeast side of the Florida Peninsula, separated from the Atlantic Ocean by the Biscayne Bay lagoon and Miami Beach. Its Cuban influence is reflected in the cafes and cigar shops that line Calle Ocho in Little Havana. On barrier islands across the turquoise waters of Biscayne Bay is Miami Beach, home to South Beach. This glamorous neighborhood is famed for its colorful art deco buildings, white sand, surfside hotels and trendsetting nightclubs.
Miami Beach
Miami Beach is actually a separate municipality from Miami. It is located on an island, connected to the mainland by a series of bridges. Miami Beach is the best area in Miami for soaking up some rays on a sandy beach and it is something of a legend in the city.
Zoo Miami
Zoo Miami houses over 2.000 wild animals, from mammals, fish, birds, amphibians, and reptiles along three miles of walkway. Exciting featured animals include tigers, elephants, zebras, bears, lions, gorillas and chimpanzees. Feed flamingos, pelicans, giraffes, and rhinos. With open-air exhibits and a cage free environment, zoo visitors have a chance to enjoy endangered wildlife up close.
Little Havana
Little Havana, the Cuban district of Miami, is small neighborhood packs a big cultural wallop. Settled in the years following Castro's revolution, it's now home to a third of Miami's 2 million residents. Its main drag, Calle Ocho (or Southwest Eighth Street), is the heart of little Havana and setting for most of the activity, the district has slowly spread into the surrounding streets and avenues.