Miami Cruise Port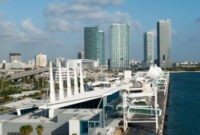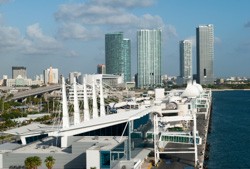 With a variety of cruise brands berthing many ships PortMiami is clearly the departure destination of choice for cruises to the Bahamas, the Caribbean, Mexico and beyond, offering cruise vacations for every taste and budget, from family fun to luxury cruising. Located in Biscayne Bay, to the east of downtown Miami, the port is made up of three connecting islands and is reachable by the Port Boulevard bridge, which connects the port to the downtown area.
The distance between Miami International Airport and PortMiami is 7 miles and the distance between Fort Lauderdale-Hollywood International Airport and PortMiami is 25 miles. Travel time varies greatly depending on the time of day and traffic.
Port of Miami – Cruise Terminal
1015 North America Way
Miami, Florida 33132
Although no line has exclusive berthing rights at any of the terminals, they do have preferred berthing status, as follows:
Terminals B&C: Norwegian Cruise Line
Terminals D&E: Carnival Corp. (Carnival, Princess, Holland America)
Terminal F: MSC Cruises (on Saturdays only during the winter season)
Terminal G: Royal Caribbean Cruises Ltd. (Royal Caribbean, Celebrity)
Terminal J: Oceania and Regent Seven Seas
Miami Terminals & Parking
Parking is available at all MiamiPorty cruise terminals. Parking for cruise passengers is $20 a day, payable prior to embarkation.  Its seven cruise terminals are among the most modern in the world. Each terminal can accommodate large numbers of passengers and include a VIP lounge, a high-tech security screening facility, airline counters and an airport-style conveyor baggage system. Four garages (C, D, G and J) and one lot (Lot 2) are available for cruiser use.
Garage C – Terminals B & C
Garage & Lot D – Terminal D
Lot E – Terminal E
Garage G – Terminals F, G & H
Garage & Lot J – Pre-paid Parking only – Terminal J
Lot 2 – Oversized Vehicle Parking – centrally located beside Lot E