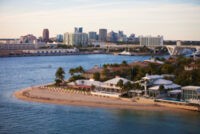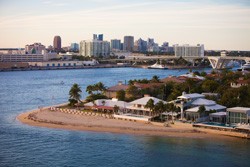 Fort Lauderdale is a residential resort city with a Venice-like series of canals and waterways. Fort Lauderdale and the rest of Broward County have plenty to offer visitors of all ages and tastes, from museums to beaches to theme parks. The Stranahan House and Bonnet House Museum & Gardens are full of artifacts and relics that tell the tale of their past. December and April are the best months to visit Fort Lauderdale. If you want to get away from the cold this winter, here is the place to go. Hurricane season, which typically lasts from June to November, makes summer and early fall prone to precipitation and hurricanes.

Fort Lauderdale Tourist Attractions
Fort Lauderdale is a South Florida coastal town known for its gorgeous beaches, museums, and Port Everglades. Spend a few days relaxing on the warm beaches or shopping on Las Olas Boulevard before your trip. From gondola rides on the canals to a historic riverside, this is the "Venice of America." The Sawgrass recreation park, the Florida Everglade holiday park, and the Billie Swamp Safari are among popular attractions.
Fort Lauderdale Beach
Fort Lauderdale Beach, one of the busiest in Florida, is a major attraction for visitors to the city. The area immediately adjacent to the beach is well-known for its tidiness and the abundance of its retail, dining, and entertainment options. Volleyball, boating, wind surfing, jet skiing, snorkeling, scuba diving, and deep-sea fishing are just some of the popular activities that bring people here.
Stranahan House
Stranahan House is the home of Fort Lauderdale pioneers Frank and Ivy Stranahan. Built in 1901 as a trading post and converted into a residence for the Stranahans in 1906, the house is the oldest surviving structure in Broward County.
Bonnet House Museum & Gardens
The Bonnet House is a landmark in Fort Lauderdale, Florida. The American Alliance of Museums has accredited Bonnet House Museum & Gardens. The city of Fort Lauderdale designated the site as a landmark and listed it on the National Register of Historic Places.
Sawgrass Recreation Park
The Sawgrass Recreation Park, located about 30 minutes outside of downtown Fort Lauderdale, provides guided airboat rides across the marshy, steamy swamp waters of the Florida Everglades. Take an airboat tour of the Florida Everglades at Sawgrass Recreation Park, which is home to a wide variety of flora and animals, including birds, fish, and alligators.
Port Everglades, a major seaport and one of the top three cruise ports in the world, is located in Broward County, Fort Lauderdale, Florida. Port Everdale's ten state-of-the-art, completely air-conditioned terminals welcome ships from major cruise lines including Celebrity Cruises, Holland America Line, Princess Cruises, Royal Caribbean, and Viking Cruises, and have free wifi, restrooms, and a large lounging area with a cafeteria, a retail center, and a few exhibition halls.